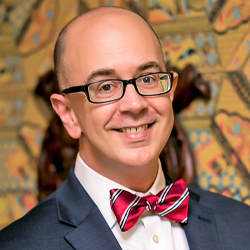 Rev. Wes Isley
After a job lay-off and a series of family deaths, Rev. Wes Isley felt a nudge to pursue full-time spiritual service after a career in magazine publishing. He received his MDiv from Cherry Hill Seminary and was
ordained by Sacred Well in 2019.
Wes has worked as a hospital chaplain and as a volunteer chaplain with the American Red Cross and a local sheriff's department. He has presented workshops on grieving
from a Pagan perspective, participated in LGBTQ Pride interfaith events and has an interest in the
spiritual dimensions of racial justice. He is currently a faculty mentor in the Community Ministry Program at Cherry Hill.
Wes first discovered his Pagan roots while wandering the woods as a child in North Carolina. As an adult, Wes was drawn back to Pagan practice by the spirits of another patch of woods. Newly retired, Wes currently lives in the Blue Ridge Mountains of Virginia with his husband and black lab Harley.