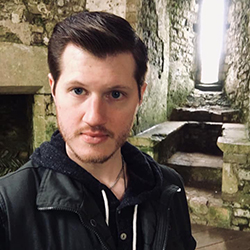 Rev. Bryce Woyak
Bryce has spent 20 years exploring, studying, and practicing various esoteric systems. He received his Bachelor of Arts in Religious Studies from the University of Wisconsin-Madison in 2013, and is currently completing his Master of Divinity and a certification in Spiritual Direction at Cherry Hill Seminary.
Following a stint in medical software development, Bryce went on to complete five units of clinical pastoral education (CPE), including a year-long residency program. He has served in a Level 1 Trauma Center, community hospitals, and community outreach programs. Bryce is a Wiccan High Priest and coven leader of the Alexandrian Tradition.
Driven by a call to serve his community, Bryce combines his mystic heart with his training in clinical spiritual care to offer empathic and research-driven spiritual support. He was ordained by Sacred Well Congregation in 2022 and works as a full-time hospice chaplain and grief counselor. Bryce has presented at local and national spiritual care conferences on topics of inclusion and equity among faith traditions in professional spiritual care settings. He grounds his practice in the belief that all people should have equitable access to spiritual care within the hospital walls and beyond. He is passionate about expanding spiritual care into community settings to bolster patient-centered healing and value-based healthcare maintenance.