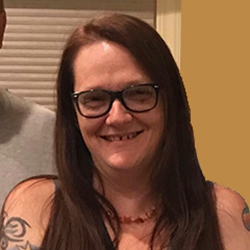 Rev. Dea Mikeworth
Dea is a Wife, Mother, Priestess, and Witch. She is also mistress of all things web-related.
Dea was born and raised in a small Southeastern Illinois town. In 2000, she married her high school sweetheart, becoming an Army wife. Two sons, four duty stations, four deployments, and one roadside bomb later, she returned to her hometown in 2012 to care for her parents.
Dea came to Sacred Well Congregation in 2003. Through SWC she was ordained in 2005 and has served as DFGL to Fort Polk Open Circle and as Religious Education Coordinator for Basic Military Training at Lackland Air Force Base. She is also a Third Degree High Priestess of the Greencraft TCW Tradition.
She owns and operates a small web design and development company and is currently serving as Director of IT for SWC.