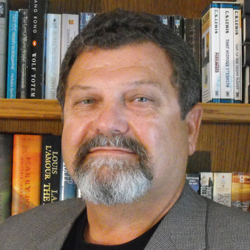 Rev. Ronald Schaefer
Ron Schaefer (Astralaya) was born in Sinton, Texas. He grew up in Germany and later in all points in Texas, finally landing (until college) in Victoria Texas. It was there he met his childhood sweetheart and wife of some 43 years Brenda Kaiser.
Ron went to Texas A&M University on a pilot scholarship and received a commission from there as a Second Lieutenant in the Air Force and went to undergraduate pilot training in Chandler Arizona. He received a Master's degree in Aviation Technology while stationed in Arizona and served 26 years in the Air Force as a fighter pilot and instructor pilot. It was through the military where he learned a great appreciation for diverse culture and religion.
Ron Came home to Wicca in 1995 and has been a practitioner since that time. Ron is an active outdoorsmen, artist and musician and occasional writer. One of his proudest creations was to illustrate the Major Arcana of the Greencraft Tarot, manage the art for the other cards and help edit the book. He enjoys the good things in life to include an occasional imbibement of the gifts of Bacchus, great food and the tobacco plant in the form of a well-crafted cigar. He and wife Brenda enjoy the fellowship of a fine group of youngsters in the tight knit and fun coven they formed and recently passed the wand. He has two grown sons, both with a job in their respective fields of study in college. He enjoys the occasional mani-pedi with the wife and friends, weekly date nights often consisting of dinner and a movie, cuddling with his high priestess (yeah that would be the wife) and reading young adult novels (everyone has a guilty pleasure). Being in his second childhood, he can often be seen engaging in pop culture, concerts and other such trivial pursuits and travel to the Pacific Northwest to escape the heat and lack of rain in Texas.
He is currently retired from the USAF and runs a small business from home that pays for single malt scotch, smokes, toys and entertainment.