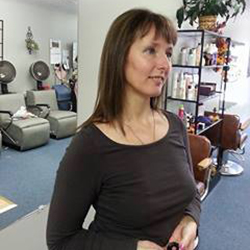 Rev. Willow Oringderff
Willow Oringderff was born and raised in a small town in Belgium. In March 2003 Willow signed up for coven training. About a year later she first heard about SWC and she became a member there too. After diligent study and a few initiations later, she was ready to start a coven in Greencraft and from there the step to running an open circle for SWC was a logical step to take. This civilian circle was 1 of 3 circles in Europe and the need for some more organization came up. Arghuicha asked Willow to be secretary for SWC Europe.
Now hobbies, for Willow, can fill a book all by themselves. Anything that involves fabric or yarn or thread, whether it is sowing or bobbin lace making or crochet, or ….she does it. If she finds out about a technique she doesn't know yet, it is the next thing she will learn. But she won't be limited by those materials as she loves pyrography, the art of wood burning. To make sure she has enough exercise she is a belly dancer. In Belgium she has been taking classes for 5 years and now teaches. Taking care of her orchids is another one of her passions. As if that isn't enough she is currently pursuing a degree in herbalism because natural and holistic healing is another one of her life long fascinations.
In September 2011 Willow arrived in the US and started another chapter in her life. She works besides her husband (Dr. David Oringderff) to keep SWCI a growing and healthy organization, she runs a metaphysical shop and teaches belly dance and she feels grateful and blessed with the passion filled life she gets to live every day.